DORIS DAY - HOLLYWOOD LEGENDS SERIES (U.S. ORDERS ONLY!)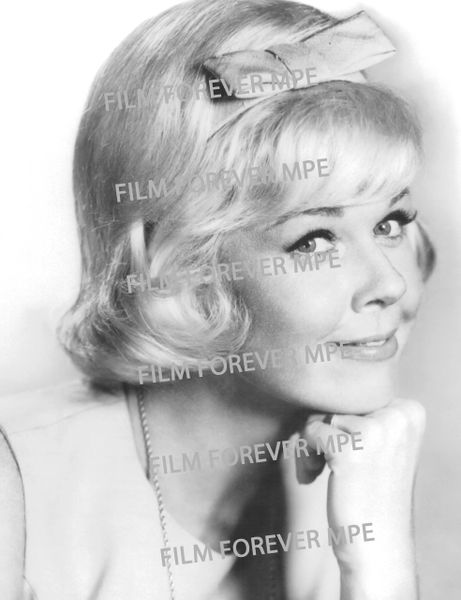 DORIS DAY - HOLLYWOOD LEGENDS SERIES (U.S. ORDERS ONLY!)
Each month, Film Forever will feature a highly sought after photograph of some of the greatest names in motion pictures.  We are proud to continue our new Hollywood Legends Series with Doris Day.
Doris Day (born Doris Mary Anne Kappelhoff; April 3, 1922 – May 13, 2019) was an American actress, singer, and animal welfare activist. She began her career as a big band singer in 1939, achieving commercial success in 1945 with two No.1 recordings, "Sentimental Journey" and "My Dreams Are Getting Better All the Time" with Les Brown & His Band of Renown. She left Brown to embark on a solo career and recorded more than 650 songs from 1947 to 1967.
Day was one of the biggest film stars in the 1950s-1960s era. Day's film career began during the Golden Age of Hollywood with the film Romance on the High Seas (1948). She starred in films of many genres, including musicals, comedies, dramas, and thrillers. She played the title role in Calamity Jane (1953) and starred in Alfred Hitchcock's The Man Who Knew Too Much (1956) with James Stewart. Her best-known films are those in which she co-starred with Rock Hudson, chief among them 1959's Pillow Talk, for which she was nominated for the Academy Award for Best Actress. She also worked with James Garner on both Move Over, Darling (1963) and The Thrill of It All (1963), and starred alongside Clark Gable, Cary Grant, James Cagney, David Niven, Ginger Rogers, Jack Lemmon, Frank Sinatra, Kirk Douglas, Lauren Bacall, and Rod Taylor in various movies. After ending her film career in 1968, only briefly removed from the height of her popularity, she starred in her own sitcom The Doris Day Show (1968–1973).

In 1989, she was awarded the Golden Globe Cecil B. DeMille Award for lifetime achievement in motion pictures. In 2004, she was awarded the Presidential Medal of Freedom. In 2008, she received the Grammy Lifetime Achievement Award as well as a Legend Award from the Society of Singers. In 2011 she was awarded the Los Angeles Film Critics Association's Career Achievement Award. Also in 2011, she released her 29th studio album My Heart which contained new material and became a UK Top 10 album. As of 2020, she was one of eight record performers to have been the top box-office earner in the United States four times.

Each 8 x 10" photo is hand selected by our staff to meet our stringent standards for outstanding quality using the best negative available.  Listed price includes Free U.S. Shipping.
No international shipments for this item.  U.S. destinations only!