Eumig Mark 610D Movie Projector w/ Eumig Case and Daylight Viewer (Like New - Completely Restored!)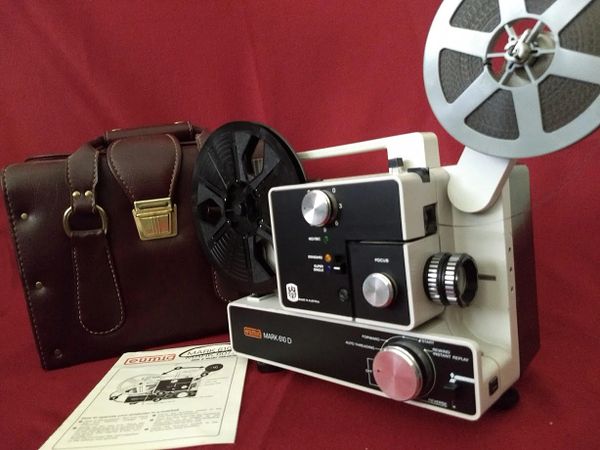 Eumig Mark 610D Movie Projector w/ Eumig Case and Daylight Viewer (Like New - Completely Restored!)
Need a great little projector to watch all your old home movies?  Presenting the silent-film projector that has what it takes to make every show a great success.
The Eumig Mark 610D projects both the Regular 8mm and Super 8mm film formats with just a flip of a switch.  Precision built in Austria...Eumig was considered among the finest built 8mm film projectors in the world.  The 610D we feel is the hallmark of their silent projector line.  Reliable, sturdy and amazingly gentle on your precious film touting incredible clear optics for outstanding projection. Comes with operators manual, power cord and auto take-up reel.

The 610D features:
- Four flicker-free slow-motion speeds (3 frames per second, 6 frames per second, 9 frames per second, 12 frames per second and 18 frames per second.)

- Freeze-frame projection
- Single-knob control
- Three indicator lamps
- 12-volt, 100 watt dichronic-reflector tungsten-halogen lamp
- A fast f/1.3 15-30mm zoom lens
- Intermission light
- Plus a tripping contact for a cassette recorder to add dialogue or music to your film

- The 610D also is modified to accept the Eumig 600 Daylight Viewer (an optional accessory that is included) to project in a well-lit room when setting up a screen is inconvenient.
- Also included, the very RARE OEM Eumig Carrying Case for the 610D.
Backed by Film Forever's 30-day Warranty for zero worries. Available for delivery to U.S. destinations only.