I Remember Mama starring Irene Dunne and Barbara Bel Geddes (16mm Feature Print)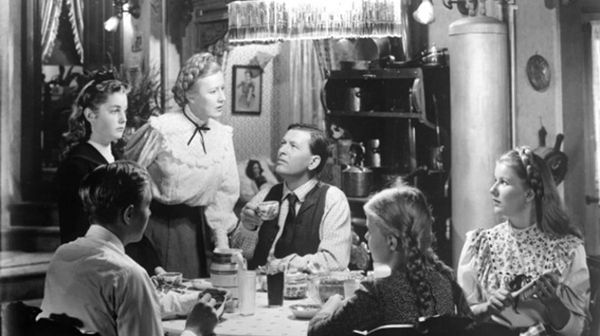 I Remember Mama starring Irene Dunne and Barbara Bel Geddes (16mm Feature Print)
Perfect for Mother's Day.  Here's a beautiful print of a true film classic
'I Remember Mama'
. 
Boasting an all star cast, this beautiful film 
stars 
Irene Dunne
 in the leading role, 
Barbara Del Geddes
 (Vertigo),
Philip Dorn, Sir Cedric Hardwick, Rudy Valle, Ellen Corby, 
Edgar Bergen and many others.  Guaranteed to bring a tear of 
happiness to your eyes...and 
nominated for 5 Academy Awards
,
this film depicts the struggles of a Norwegian family in 
early 
twentieth century San Francisco before WWI.  A rare print of an 
incredibly beautiful film 
by legendary director, 
George Stevens
.  
Academy Awards, USA 1949
Golden Globes, USA 1949
Writers Guild of America, USA 1949
Nominee


WGA Award (Screen)

Best Written American Drama
DeWitt Bodeen 

Best Written American Comedy
DeWitt Bodeen 

The Robert Meltzer Award (Screenplay Dealing Most Ably with Problems of the American Scene)
DeWitt Bodeen 
Plot:
In the format of a story, aspiring writer Katrin Hanson recollects her life 
growing up in the early 
twentieth century San Francisco with her Norwegian
immigrant family: her siblings Nels, Christine 
and Dagmar; and her Papa 
and Mama named Lars and Martha. Mama is the practical one in the family. 
One of the family's rituals is doing the household financial accounts every
Saturday night. Using the 
money brought home by Papa and what is kept
in their petty cash tin, Mama would allocate it to the 
weekly bills. "It's good
- we do not have to go to the bank" is what Mama would say if they had enough 
money. Luckily, they never had to go to the bank as dipping into their bank 
account was the worst thing 
they could have done. Beyond her practicality, Mama
is truthful and compassionate and will do anything
 for those she loves. This not 
only includes her husband and children, but also her "scary" Uncle Chris,
her trio of sisters - all four of whom can be difficult to love much of the time - 
and their poor boarder,
 Mr. Hyde, who provides more to the family in his readings
than any financial compensation ever could.
 But Katrin and her siblings learn of
a lie told by Mama, all in the name of protecting them.