Kodak Professional Grade Film Cement (Re-Packaged 'FRESH' by Film Forever)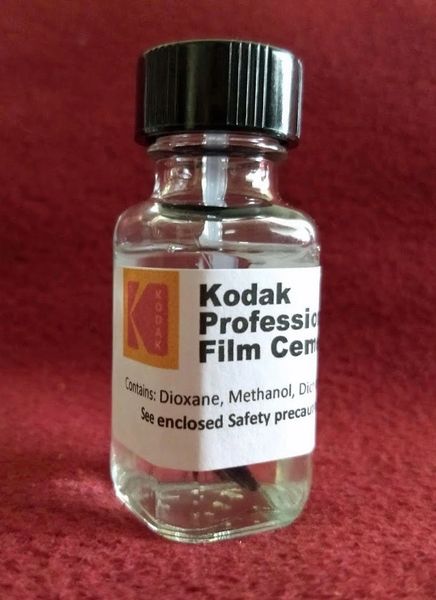 Kodak Professional Grade Film Cement (Re-Packaged 'FRESH' by Film Forever)
The best film cement on the market and 'FRESH FROM THE FACTORY' has been upgraded to Professional Grade.  Don't settle for less...Kodak! 1/2 ounce bottle with applicator brush.  No longer sold by Kodak in the 1/2 oz bottle, Film Forever has re-packaged the NEWER Professional Grade product used by all the major movie studios in Hollywood in the identical bottle without the classic Kodak yellow label. Professional Grade Quality, Same Brand, Same Film Cement Brand you've grown to love...still in the small convenient size you want.
PLEASE NOTE
:  
FILM CEMENT ONLY WORKS ON ACETATE-BASED AND NITRATE FILM STOCK
.  YOU MUST USE A CEMENT FILM SPLICER AND USE THE SCRAPER TO REMOVE THE EMULSION ON THE FILM IN THE AREA YOU APPLY THE CEMENT FOR A SECURE BOND.  FILM CEMENT WILL 
NOT
 ADHERE TO PLASTIC LEADER, MYLAR OR POLYESTER FILM STOCKS SUCH AS FUJI AND AGFACHROME REVERSAL. 
Due to mailing restrictions, we do not ship Kodak Film Cement outside of the United States.  (Sorry absolutely NO SHIPMENTS to any international destination!)
California Prop 65 Warning:  This product contains a chemical known to the State of California to cause cancer and birth defects or other reproductive harm.