'NEW' Kodak Super 8mm Movie Camera (Coming Soon!)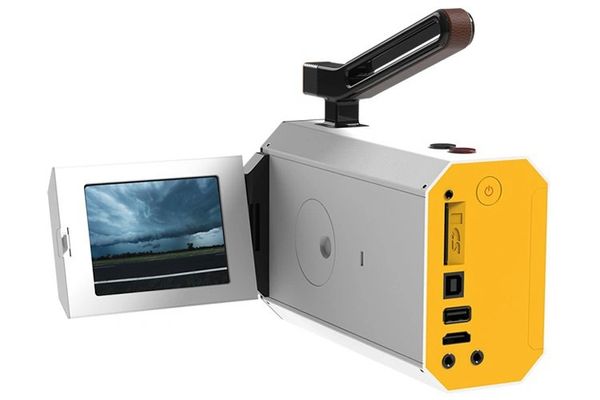 'NEW' Kodak Super 8mm Movie Camera (Coming Soon!)
The first NEW Super 8mm Movie Camera produced in more than 30 years! Contact us at:  customersupport@filmforevermpe.com to be put on the waiting list.  Price to be announced.  Coming Soon!
Technical Specifications:

FILM GAUGE:  SUPER 8 ( EXTENDED MAX-8 GATE )
FILM LOAD:  KODAK CARTRIDGES WITH 50 FT (15 M)

SPEED:  VARIABLE SPEEDS (9, 12, 18, 24, 25 FPS) ALL WITH CRYSTAL SYNC

LENS MOUNT:  C-MOUNT

FOCAL LENGTH:  FIXED / 6 MM, 1:1.2 – RICOH LENS (OPTIONAL ZOOM 8-48 MM LENS )

FOCUS / APERTURE:  MANUAL FOCUS & IRIS

VIEWFINDER:  VIEW FINDER  3.5" DISPLAY THAT HAS A STANDARD DEFINITION VIDEO INPUT AND SUPPORTS SWIVEL +/- 45 DEGREES.

EXPOSURE:  EXPOSURE CONTROL.  BUILT-IN LIGHT METER FOR SUPPORTED SPEEDS OF ALL KODAK FILM TYPES  MANUAL SPEED / MANUAL IRIS SETTING.
POWER SUPPLY:  BATTERY & CHARGER INTEGRATED BATTERY AND CHARGER VIA STANDARD USB WALL ADAPTER
CONTROL PANEL / SETTINGS:  CONTROL PANEL VIA VIEWFINDER 3,5" TFT LCD

SETTINGS:  VIA JOG WHEEL AS USER INTERFACE