Kodak Vision3 50D Color Negative Film - 16mm 100 ft. roll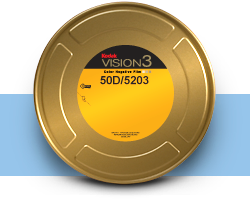 Kodak Vision3 50D Color Negative Film - 16mm 100 ft. roll
KODAK VISION3 Films deliver the unsurpassed image quality, real-world flexibility, digital compatibility, and archival stability that you demand. Now we proudly present KODAK VISION3 50D Color Negative Film 5203, the world's finest grain film.
KODAK VISION3 50D Film demonstrates all the family qualities you've come to expect — unrivaled highlight latitude, flexibility in post and proven archival stability. It also proudly touts the world's finest film grain to ensure a pristine, clean image that is full of color and detail , especially in high contrast daylight situations.
For filmmakers who aspire to capture the world as only they see it, the KODAK VISION3 Film family provides all the tools necessary to do it without compromise.
Experience Kodak Vision3 50D film for yourself by clicking on this link:  https://www.youtube.com/watch?v=Njg2i99fVzk